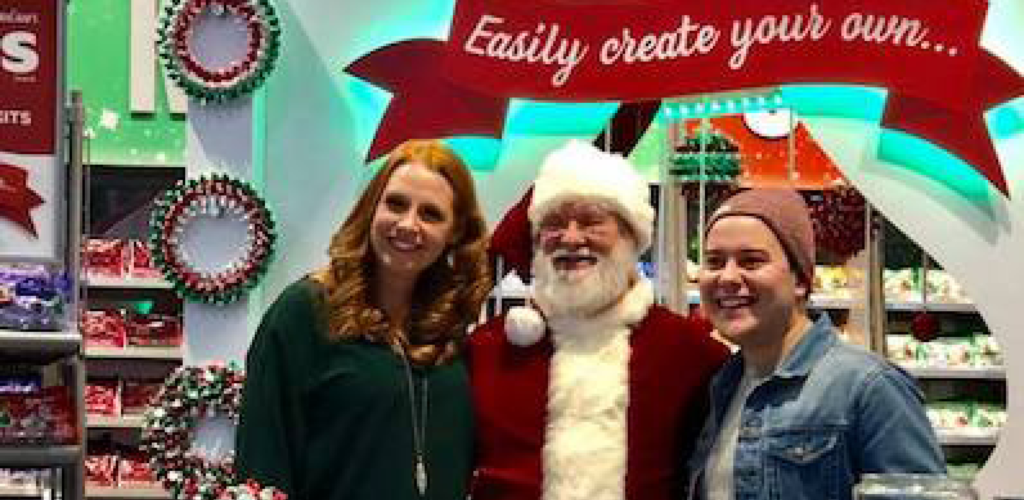 December 10, 2018
FloraCraft® Partners with the Hershey Company
This holiday season, FloraCraft® and The Hershey's KISSES Company have partnered to create a new family traditions through an array of holiday-inspired foam starter kits.
For years, consumers have used Hershey's KISSES and FloraCraft foam to make their own projects. FloraCraft jumped on the opportunity to take this inspiration one step further by creating design specific kits that make it easier for the consumer.
The FloraCraft team, along with creative influencers Tanner Bell, founder of A Little Craft in Your Day, and Mariah Leeson, founder of Giggles Galore, traveled to Hershey, Pennsylvania to promote the kits with live demonstrations. Open year-round, Hershey's Chocolate World offers marketplace shops and restaurants, specializing in Hershey's chocolate products.
Hershey Chocolate World attracts more than twenty-thousand visitors a day. Bell and Leeson demonstrated the user-friendly assembly process for the new FloraCraft Hershey's KISSES Starter Kits, as well as next level tips to make one of a kind creations.
The FloraCraft Hershey's KISSES Starter Kits are set to launch this holiday season. Three of the kits are currently available for purchase on Amazon.com, Hersheys.com and in Albertsons stores nationwide. For more information and inspiration, follow Bell an Leeson on Twitter, Instagram, Facebook and YouTube.
About FloraCraft
FloraCraft is the world's leading manufacturer of foam products for the craft and floral industries. From its headquarters in Ludington, Michigan FloraCraft and its 200+ employees provide innovative, American-made products to Walmart, Amazon, Michaels, JOANN, Hobby Lobby and other leading retailers. Founded after World War II, FloraCraft is a family-owned business success story built by owner and Chairman Lee Schoenherr, who is dedicated to protecting American jobs. For more information, visit www.floracraft.com.