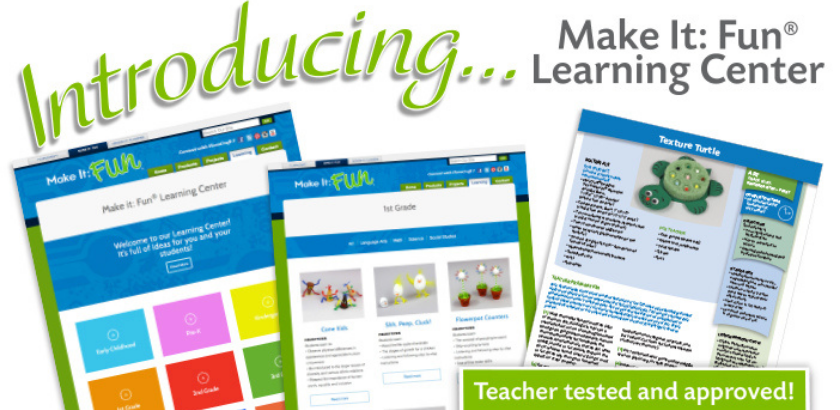 April 9, 2020
Creative Craft Projects to Engage Your Child's Mind  
With many kids home for the rest of the year, parents continue looking for unique ways to keep their kids occupied in a constructive, educational way. Did you know FloraCraft has a website that offers free craft project ideas with easy lesson plans for parents and teachers?
Here you'll find creative lesson plans for teachers, homeschooling parents, group leaders and influencers that can be used while children or students are at home.
The Make It: Fun® Learning Center website has numerous craft projects for kids through 5th grade with a focus on learning. From early childhood and beyond, these projects cover a variety of subjects such as art, language arts, math, science and social studies.
Users can click here and search by grade to find the right craft for your children or students. Each craft includes detailed instructions with materials needed, estimated time for completion, photos, instructions for the teacher or parent, and overall objectives of the project to help you choose what you want your child or student to learn.
All projects can be downloaded for easy printing or sharing needs.
This can be a challenging time for educators, especially those who are new to the profession. Parents who have been suddenly given the responsibility to help educate and keep their kids occupied throughout the day can also face similar struggles. Our site provides detailed directions to help you succeed.
Perhaps you are an experienced crafter and may not need as many thorough instructions. We build each lesson in sections, so you can jump to what you want. You know your students and children best and can customize the plan for their needs.
Research shows that 96% of teachers agree that hands-on learning results in higher student interest, participation and test scores.
For more information or questions about the crafts or the website, reach out to our education team at learning@floracraft.com.
Looking for more craft projects? Check out our staff favorites here.