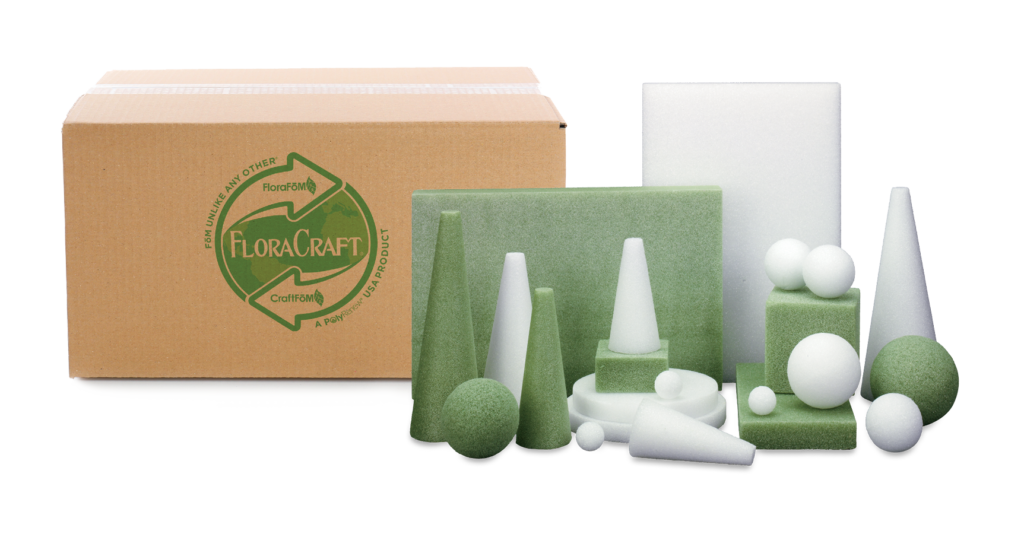 September 14, 2020
FloraCraft® Develops First Craft, Floral Foam Made from Recycled Plastic
In a market segment not known for innovation, category leader FloraCraft® has announced a breakthrough new product that saves hard-to-recycle plastics from the landfill, enabling it to offer a "greener" product to crafters and florists.
The Northern Michigan manufacturer recently debuted FōM® with PolyRenew®, a craft and floral foam line made with post-consumer recycled plastic. Available at craft and floral retailers everywhere, FōM is the first extruded polystyrene, or XPS, product on the market made with post-consumer plastic.
Using recycled garment hangers sourced from retailers across the country, FōM contains approximately 20% recycled styrene. FloraCraft is working to extend the amount of recycled content in FōM, with a goal of being 100% in the next several years.
Mixing recycled with virgin raw material allows the Company to make the same amount of product it normally does, but takes out the equivalent of nearly 1,000 miles of plastic, or the distance between New York and St. Louis, per year.
According to extensive consumer testing, FōM is still the lightweight material crafters and florists love, only smoother and less brittle than the Company's legacy foam, making painting and cutting easier while producing less dust, so cuts can be made with minimal clean up. Its sturdier design also reduces the possibility of the material denting during use and it remains great for holding stems in place.
"FōM represents the first true innovation in this category in more than 70 years," said CEO Eric Erwin. "The craft and floral foam manufacturing industry has never used post-consumer materials to produce products until this point. By adding PolyRenew to our production process, we're taking plastic that would normally end up in a landfill and making it into a high-quality foam product – a win for the consumer and the environment.
"We listened to our consumers, who told us they really want to use products that have been responsibly made. They want to know the foam used in their craft and floral projects is created with environmentally conscious materials, it doesn't pollute the water supply and is made right here in the United States. We listened: FōM is our first response, but it won't be the last."
The new product line comes after more than a decade of research and development with significant multi-year capital investment, including the company becoming vertically integrated in 2019. FloraCraft now designs, engineers and produces its own XPS from its Michigan headquarters, allowing it to maintain greater control over the quality of its products.
This ability allows the company to extrude more than 20 million board feet of XPS needed to create its products that crafters, teachers and florists around the world love to use. By producing its own XPS in-house, FloraCraft continues to reduce nearly 400,000 miles of truck traffic each year from its former supplier to its headquarters.
"With FōM, we have found a way to monetize recycled polystyrene, a plastic that isn't traditionally considered a reusable material, while producing it all in house," said Vice President of Extrusion Phil Gable.
"Most people in our industry would consider this a tall task because of the difficulty in recycling polystyrene and the resources it takes to become vertically integrated, but our team worked tirelessly for years to prove it can be done."
FloraCraft began using STYROFOAM™ Brand Foam in the aftermath of World War II when company founder Lee Schoenherr realized it provided a stable base for drying and painting the branches of leaves, ferns and grasses used to create dried floral arrangements. The material had been created accidentally during the war in the quest to produce synthetic rubber. Its buoyancy made it the perfect material to use in bulkheads to help keep transport ships afloat after being torpedoed.
Once the war ended, this need disappeared – and the United States was left with a surplus of this foam. Schoenherr bought a truckload of the material to Ludington and experimented. As FloraCraft transitioned its business model to focus on the burgeoning craft market, Schoenherr realized this type of foam was also an ideal material to fabricate balls, cones, wreaths and other shapes.
After more than 40 years using STYROFOAM™, Schoenherr challenged his team to "find a better way" to produce their craft and floral foams. The company turned to Texas-based Americas Styrenics, or AmSty, a leading integrated producer of polystyrene and styrene monomer, to develop the "recipe" for the new XPS product.
FloraCraft and AmSty engineers were able to create a new class of XPS FōM by utilizing AmSty's "polyusable polymer" called PolyRenew®, made from recycled plastic garment hangers from retailers.
"This is just the beginning for us as we rethink how we produce our products," Erwin said. "Right now, we're making FōM with approximately 20% recycled material. We are hoping this will be a catalyst to reach our goal of using 100% recycled materials in our products as we continue our commitment to environmental sustainability.
"AmSty has been an incredible partner as we reimagined what foam looked like. They understood our vision of creating a more sustainable product without sacrificing performance. The end result was even better than we expected – and our customers think so too."
FloraCraft is driven by social responsibility, dedicated to building a sustainable company that employs best practices for the environment, people and the communities it operates in. The manufacturer is committed to reducing its environmental impact by recycling more than 98% of its foam fabrication scrap, which is collected and reused in other FloraCraft products or sold to companies who utilize recycled materials.