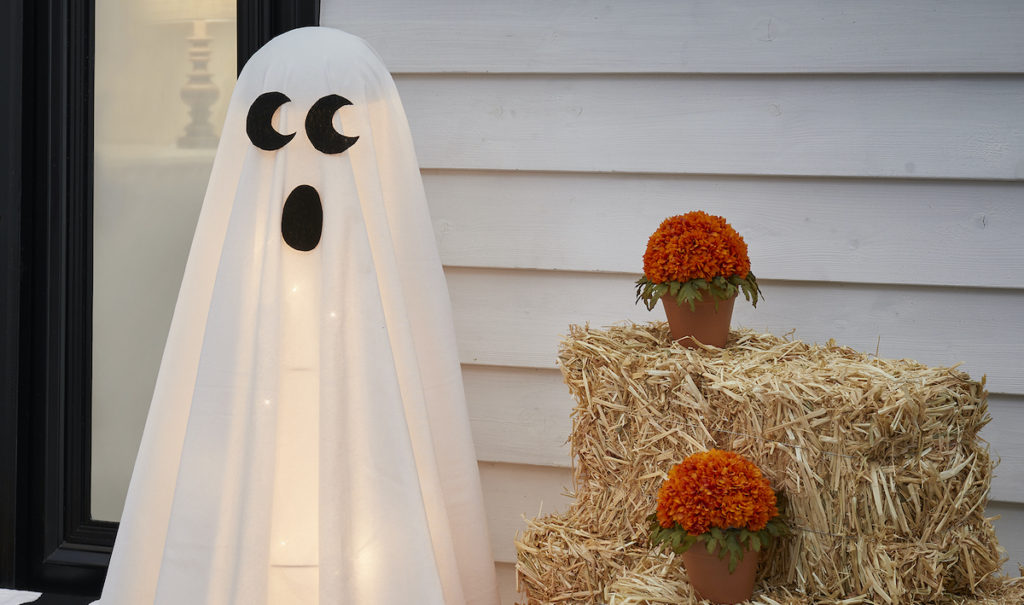 September 22, 2023
Trend Alert: Tomato Cage Ghost to Spook Your Space
If you're on the hunt for the latest crafting trend to get into the spooky spirit – look no further! Inspired by the viral TikTok tomato cage ghost crafting trend, our "glowy ghosts" are the perfect whimsical addition to any Halloween display in your home, front porch or yard – and can be customized in countless ways. We'll show you how to create a ghost of your own using FloraCraft's CraftFōM® ball or half ball.
Reasons why so many crafters are turning to the tomato cage ghosts this Halloween:
It's easy.
It's affordable. Save money by reusing your tomato cage from summer gardening and repurposing the string lights from holiday decorating.
It's perfect for both indoor and outdoor décor.
It's customizable.
It's recyclable. It can be disassembled, and individual components repurposed after Halloween.
What is the viral TikTok tomato cage ghost trend?
Gaining millions of impressions on TikTok and other social media platforms, the tomato cage ghosts get their name from their upside-down tomato cage frame, from which a FloraCraft FōM ball is attached to the top. Then, string lights are wrapped around the tomato cage to achieve a glowy look. Finish with white fabric and attach small felt circles to resemble eyes and a mouth.
This basic concept can also be extended into making witches and other characters to spook up your home this Halloween. Check out the directions below to make your own.
What you will need:
Tomato cage or other wire frame
LED string lights
Sheet fabric, drop cloth or tablecloth
Black felt or paint
Zip ties, low-temp glue gun & scissors
Directions:
Zip tie the ends of the tomato cage together to create a point.
Push the FōM ball or half ball onto the pointed end of the tomato cage.
Wrap the string lights around the tomato cage and secure with zip ties.
Drape the white fabric over the tomato cage and foam ball, making sure it covers the entire structure.
Cut off any excess fabric.
Cut out a spooky face and attach it to the ghost with low-temp glue.
Turn on the string lights to illuminate the ghost.
Place your tomato cage ghost in a prominent location, such as your front porch or yard, and enjoy your spooky new Halloween decoration!
Can't find a tomato cage? No problem! Using the CraftFōM ball, simply drape the fabric , secure with glue and attach a string to the top to create a hanging ghost. This option is especially perfect for the front porch or yard, as a breeze can add a spooky swaying effect.

Ghosts not your thing? This process can be customized in countless ways. Try using a black sheet and topping your creation with a pointed hat to make a witch. The same process can also be used during the holidays to create angels and gnomes. A quick trip to your local craft store or scrolling through social media can help provide endless inspiration for your next project.
Be sure to snap a photo or video of your creation process and final product to share with us on social media using #FloraCraft #MakeItFun.