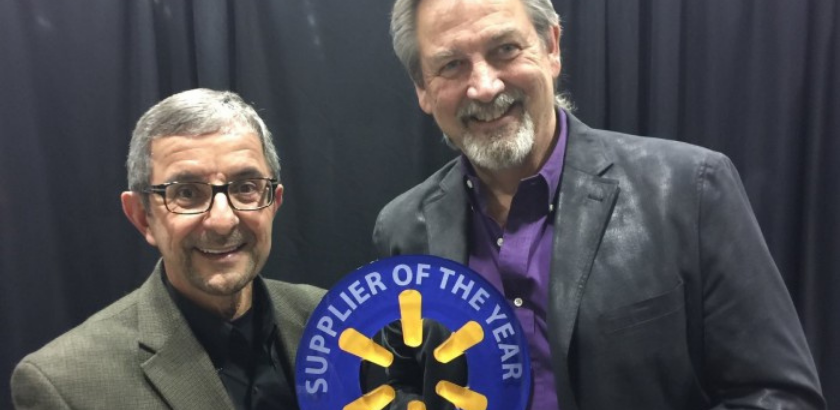 February 6, 2015
FloraCraft named Walmart Supplier of the Year
ORLANDO, Fla. — FloraCraft of Ludington was recently named Walmart's 2014 Supplier of the Year during the retail chain's Year Beginning Meeting in Orlando.
"The fact that Walmart is the world's largest retailer, makes this recognition for excellence a unique and very special honor for FloraCraft," said Lee Schoenherr, chairman of FloraCraft's board of directors. .
Several key performance indicators that measure variables such as sales performance, inventory metrics and delivery rates, determine Walmart's Supplier of the Year award. FloraCraft outperformed every key performance indicator assigned and measured by Wal-Mart. "This award recognizes the strategic alignment of our internal teams at FloraCraft," said Jim Scatena, president and CEO of FloraCraft. "This award was earned for achieving business goals over a sustained period of time, not just a one-time success. It was a real team effort and every associate at FloraCraft contributed to this award in one way or another. We are delighted to be recognized for the efforts of everyone in the organization."
In presenting the award, Scott McCall, senior vice president and general merchandise manager of Walmart said: "Walmart is proud to recognize and honor FloraCraft for exceptional overall performance. When we listened to the team who determined the award winner, FloraCraft clearly showed true supplier partnership".
"Ultimately this was made possible by the confidence, investment and support that we receive from our chairman, Lee Schoenherr. We have built a team and invested in the infrastructure that is required to support the needs of the world's largest retailer," said Scatena. Lee has allowed us and encouraged us to do whatever it takes to serve our customers."
Ludington-based FloraCraft was established in 1946 and is the authority and leading producer of craft and floral products. FloraCraft operates in the creative industries with the tag-line, Make It Fun. "Having fun is a big part of our company culture. We have the greatest employees in the world and we love them and respect them." Said Scatena. "When Bill Hellwarth (FloraCraft vice president of sales) and I accepted the award, we accepted it on behalf of all FloraCraft employees."
Read the original article here.