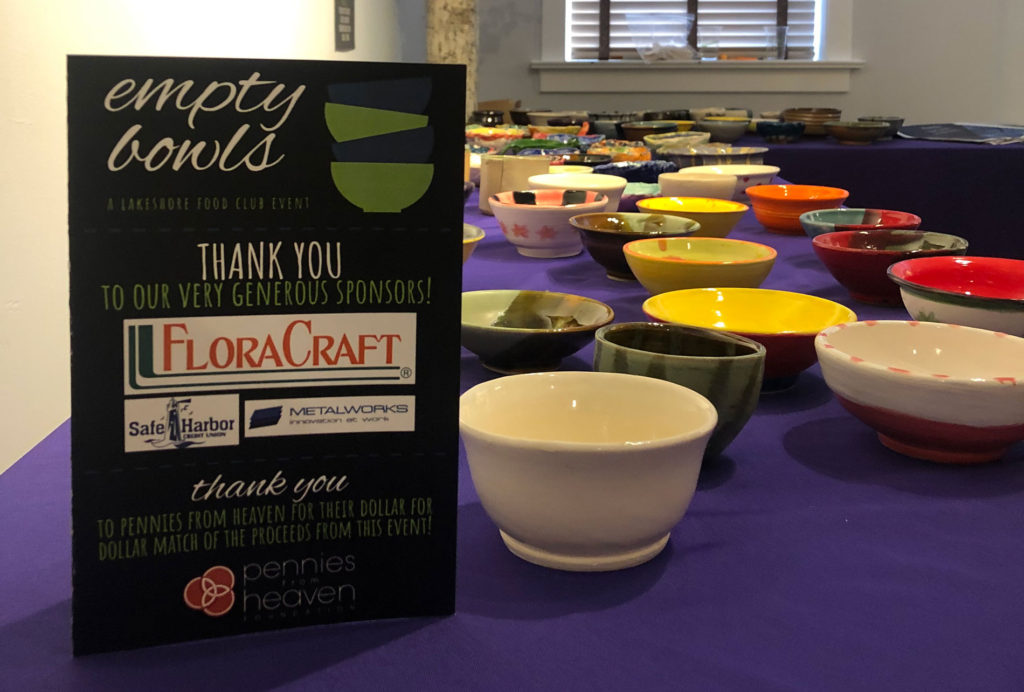 March 16, 2020
FloraCraft® Supports Local Empty Bowls Fundrasier
FloraCraft®, the world's leading manufacturer of foam floral and craft products, continued to support the local Ludington community by sponsoring the Lakeshore Food Club's first ever Empty Bowls Fundraiser on March 7 at the Ludington Area Center for the Arts.
Attendees choose a keepsake artisan-made bowl as reminder there are those out there who go hungry every day.  Guests enjoyed a meal of soup, bread and dessert made by local chefs along with drinks and live music. The event also held an online auction that featured prizes ranging from golf packages, restaurant gift cards, sporting event tickets, jewelry and wine.
The inaugural event sold out and all proceeds benefitted the Lakeshore Food Club.
"This was a very successful first year and we could not have asked for a better turnout," said CEO Eric Erwin, who serves on the board of directors for the organization. "This event was particularly special as it helps us fill a critical need in our community. Many of us don't fully grasp how severe the issue of food insecurity is in Ludington so this event was vital in raising awareness."
"FloraCraft was honored to lend a helping hand as we continue to look for new avenues to support our community."
The Lakeshore Food Club is a nonprofit grocery store offering food options for low-income families in the Ludington area. Qualifying members pay $10 for a 30-day membership and select food using points based on household size. Members personally shop and select food as often or as seldom as they choose during their 30-day membership.
The organization aims to promote dignity and respect, while reducing stigmas through its mission of love, food and connection.