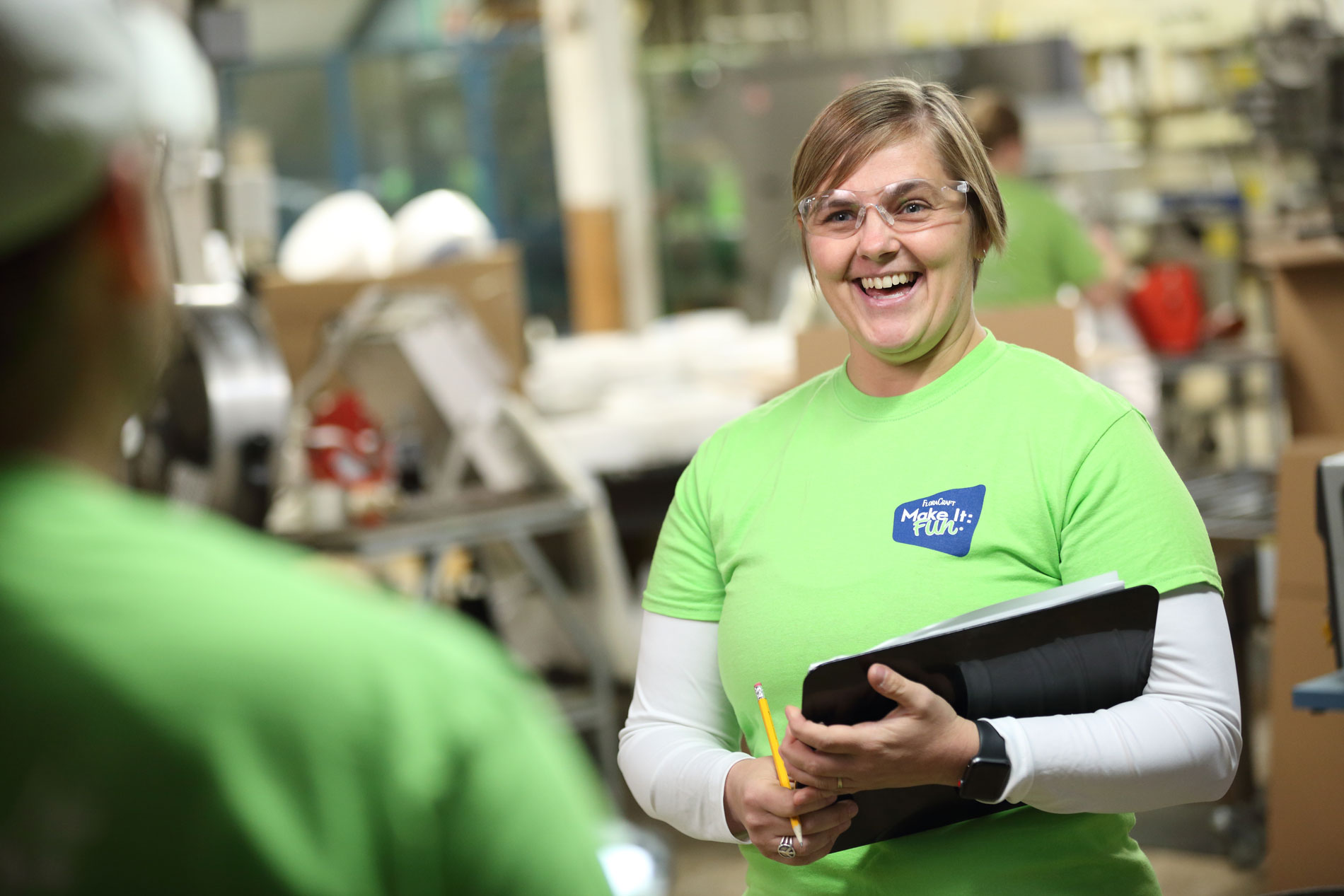 August 25, 2020
Survey Shows FloraCraft's® Employee Satisfaction Ranks Above National and Trade Averages
A new employee engagement survey of FloraCraft® employees shows employee satisfaction continues to increase year-over-year, ranking its workplace in the top tier of companies nationally and in the manufacturing sector.
The survey measured approval ratings from employees of the Ludington-based manufacturer of craft and floral foam products on topics such as executive leadership, communication, pay, benefits, employee development and work-life satisfaction. This year's results show an overall increase in employee satisfaction compared to 2019 as well as higher ratings than national and manufacturing business averages.
"We work extremely hard to be the employer of choice in Mason County, so these results are a wonderful testament to that effort," said CEO Eric Erwin. "While caring for our team has been a part of our DNA since day one, we are deeply committed to finding innovative, new ways to develop and invest in our employees so they have opportunities to not only grow, but thrive.
"This year has been particularly difficult for all businesses with the COVID-19 pandemic. I am proud of the actions FloraCraft took immediately to secure jobs, salaries and benefits for its employees to help reduce the stress that has come with this outbreak."
Some highlights of the survey include:
Executive leadership approval soaring to 90%, up from 79% in 2019 and compared to 77% for national companies and 74% for other manufacturers
Communication with employees went up 10% from 2019 to 81%, compared to the national average of 70% and 69% for other manufacturers
Salary and wage satisfaction increased to 69%, up 4% from last year and more than the 60% national and 57% manufacturer averages
FloraCraft began having its employees take this survey in 2018 to provide benchmarks for management performance that would allow it to make company-wide changes based on data.
"This annual survey not only allows us to better understand how we can improve our employee experience but helps us benchmark the areas we need to grow in," Erwin said. "Our leadership team takes this data very seriously and looks at ways each year we can continue to move the needle forward. The feedback we receive from our team is invaluable and has led to numerous improvements that have not only boosted morale but have boosted the bottom line."
In the past several years, the company has invested more in leadership training and development opportunities for its employees through its FloraCraft Academy, which covers a variety of topics, many requested directly from participants. FloraCraft was also honored by the Ludington & Scottville Area Chamber of Commerce as the "Business of the Year" last May.
In 2018, company owner and chairman Lee Schoenherr gave nearly $4 million to FloraCraft employees through cash bonuses and 401(k) retirement accounts, which made international headlines. "The gift," as it became known, was to show Scheonherr's appreciation for how instrumental the employees of FloraCraft are in the success of the company.
"Many companies talk about whether they can afford to invest in their employees' growth. At FloraCraft, we ask ourselves, how can we not invest in their growth?" Erwin said. "Our team is critical to our success so providing as many opportunities as we can for them is just part of our culture."