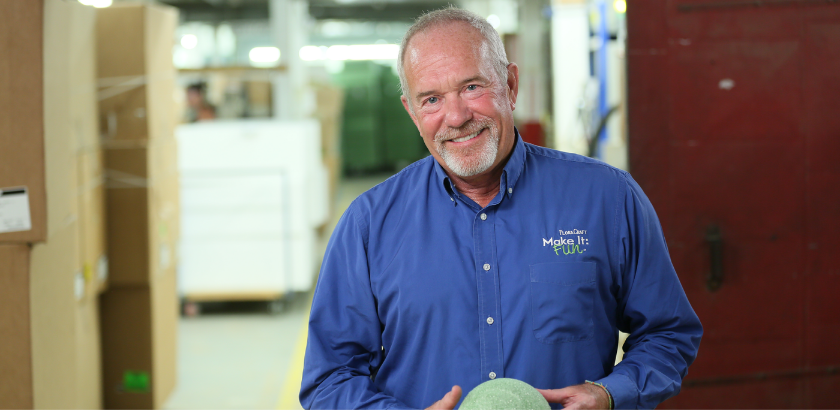 October 9, 2020
FloraCraft® CEO Eric Erwin Awarded EY Entrepreneur of the Year
FloraCraft® CEO Eric Erwin has been selected Entrepreneur of the Year for the Michigan and Northwest Ohio region by Ernst & Young LLP, or EY.
Erwin was one of 10 winners announced by the organization at its virtual awards gala Oct. 8. The event featured 29 finalists selected by a panel of independent judges from a competitive pool of nominations. In its 34th year, EY's Entrepreneur Of The Year Award® program honors entrepreneurial business leaders whose ambitions deliver innovation, growth and prosperity as they build and sustain successful businesses that transform the world.
Erwin now becomes eligible for the Entrepreneur Of The Year National Awards show, hosted by comedian Seth Meyers, on Thursday, Nov. 19. The Entrepreneur Of The Year National Overall Award winner then will move on to compete for the EY World Entrepreneur Of The Year Award in June 2021.
"I am very humbled and honored to receive this award, which I accept on behalf of our entire FloraCraft team," Erwin said. "I am fortunate to be surrounded by a great group of people who help me grow and inspire me.
"This year has brought us many challenges – and our team showed great perseverance through it all, which makes this award even more special. It is an absolute pleasure to come to work every day and be a part of such a talented team."
Erwin has led FloraCraft since 2017, driving initiatives to retain and develop employees through new company programs and improvement of the company's business model while emphasizing a significant focus on sustainability and giving back to the Ludington community.
He most recently led FloraCraft in launching its innovative new product, FōM® with PolyRenew®, the first foam product on the market made with post-consumer plastic. The breakthrough product saves hard-to-recycle plastics from the landfill, enabling the company to offer a "greener" product to crafters and florists.
Company owner Lee Schoenherr's longtime dream of FloraCraft being in control of its own destiny has been realized under Erwin's tenure. FloraCraft took on its most ambitious project ever to become fully vertically integrated by bringing polystyrene extrusion in-house rather than purchasing product from a supplier. The move created jobs, improved efficiencies, enhanced quality and reduced the company's carbon footprint.