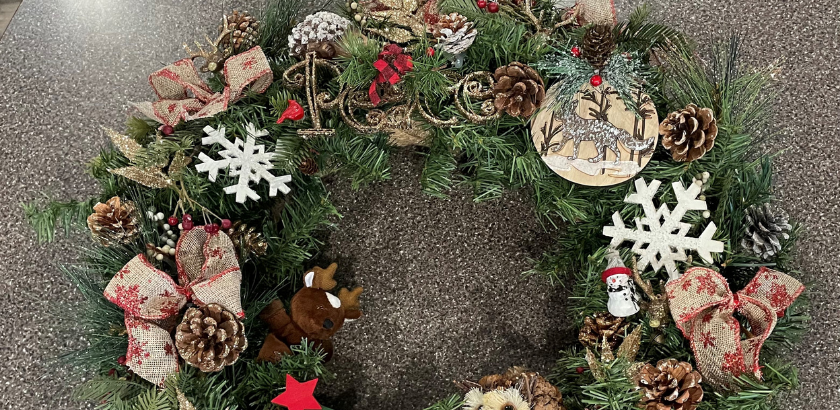 December 22, 2021
FloraCraft Supports Local Arts Center Silent Auction
FloraCraft®, the world's leading manufacturer of foam floral and craft products, continued to support the local Ludington community by donating to the Ludington Area Center for the Arts' second-annual Festival of Wreaths silent auction, which took place Nov. 26 through Dec. 8.
The silent auction included holiday wreaths made by local artists and crafters using foam and straw wreath forms donated by FloraCraft. Buyers had their choice of 25 wreaths to bid on, with all proceeds benefiting the Ludington Area Center for the Arts, or LACA.
Bidding began on Nov. 26 and wreaths were displayed in the center's main gallery in conjunction with the LACA's Art of Giving Holiday Artist Market, which allows local artists to show and sell their work. Bidding closed on Dec. 8, raising more than $850.
"It was great to see the exceptional pieces our community members crafted with our products to help spread some cheer this holiday season," said CEO Eric Erwin. "FloraCraft was honored to support these creative minds and our partners at the Ludington Area Center for the Arts.
"In addition to supporting artists and creators everywhere with our products, part of FloraCraft's mission is to give back to the community. This silent auction was a perfect opportunity for our team to continue supporting the arts in Ludington."
The LACA is a community arts organization and facility that cultivates regional musical, visual, performance, dance, culinary and literary arts. The center hosts exhibitions, performances and educational programs in its 250-seat performance hall, banquet hall, gallery, exhibition spaces, art studios and classrooms.
To view some of the wreaths created, click below.