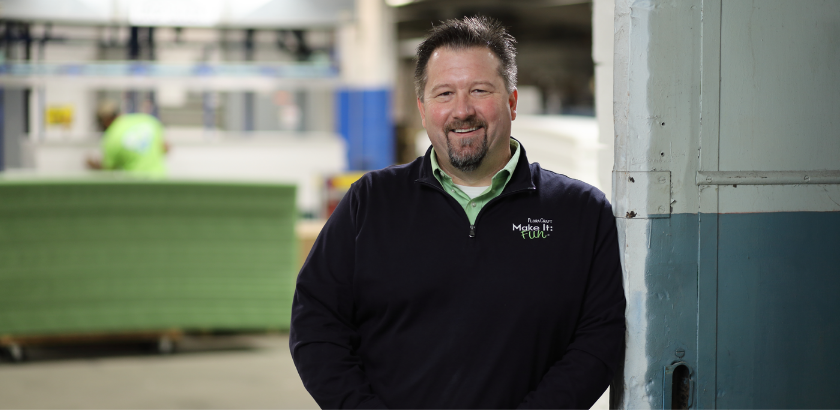 February 24, 2022
FloraCraft® CFO John Nielsen Named Plastics News CFO of the Year Award Nominee
Since returning to his hometown, Nielsen has implemented valuable financial practices and been involved with growing the Ludington business community
FloraCraft® CFO John Nielsen was named a nominee by Plastics News for the 2021 CFO of the Year Award.
The award recognizes chief financial executives that go beyond the norm in a financial management role. Individuals are eligible from companies of all types, sizes and revenue headquartered in North America.
"I am honored to be considered a nominee for this award among many exceptional financial executives," Nielsen said. "During my time at FloraCraft, it has been important for me to not only be invested in continuing the company's legacy as a leader in the consumer packaged goods industry, but to also be invested in developing the community so local businesses and talent can thrive.
"Our finance team is equally deserving of this recognition and been expectational to work with. Whether it has been adjusting to the sudden changes we experienced during the COVID-19 pandemic, implementing unique and valuable financial practices into our privately held organization or collaborating with other team members and departments, our focus has been to ensure our finances are a key pillar of trust among our constituents."
Nielsen joined FloraCraft in July of 2020 after spending more than two decades in the automotive industry. Since taking over as CFO, he has implemented policies and procedures that have allowed the company to continue to evolve, spearhead innovation and support team members at the department and executive levels.
One of Nielsen's main areas of focus has been empowering his team to make their own decisions. He has emphasized continuous improvement and education within his team, using industry best practices and having an understanding of FloraCraft's strategic plan, so team members feel confident in making independent, informed decisions and recommendations that align with the company's goals. He has also provided his team with guidelines on all operational aspects of the finance department and tools to set them up for success.
Operationally, Nielsen has implemented policies and procedures for FloraCraft to undergo a full financial audit annually. While this is not a requirement for a privately held company, he believes completing and passing a full financial audit shows the company upholds itself to a certain standard of ethics, is in good financial standing and values transparency.
"John is involved in virtually every branch of our operations, but what makes him unique is his understanding and collaboration with our marketing, product development and manufacturing teams," said CEO Eric Erwin. "He makes it a point to not just be a 'backroom finance person' and to have a deeper understanding of all our operations.
"John educates himself on how our manufacturing team operates and uses automation to enhance our production capabilities. Having this knowledge not only helps him better understand the challenges the team faces and allows him to collaborate with them on solutions, but also extends into better options for customers."
A Ludington native, Nielsen has deep roots in and is involved with growing his community. He is a board member for the Ludington and Scottville Area Chamber of Commerce, assisting with reviewing the chamber's finances and planning collaborative efforts to support local businesses and talent in the area.
Additionally, John has been a member of the Great Lakes Association for Financial Professionals board of directors for more than a decade, previously serving as board president. He is also a member of the National Association for Financial Professionals, previously serving on the programming selection committee for the organization's national conference.