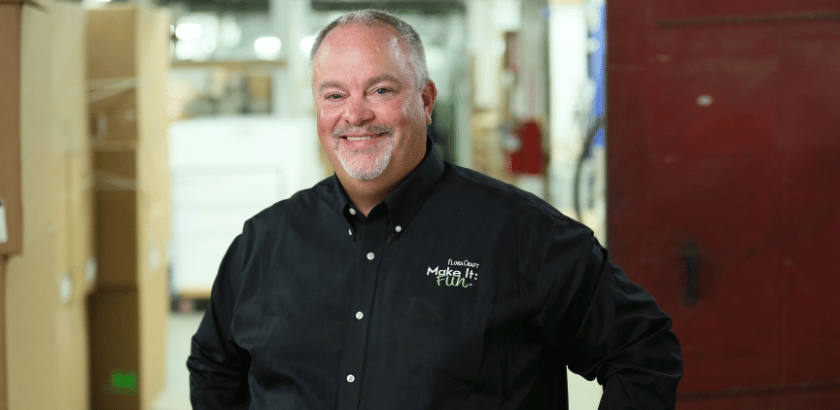 August 14, 2023
FloraCraft® Names Steve Carlson President & CEO
Eric Erwin Retires after Award-Winning Career
FloraCraft®, the world's leading manufacturer and marketer of floral and craft foam, announced Steve Carlson will be its new president and CEO.
In his new role, Carlson will be responsible for strategic direction as well as leading all manufacturing, fabrication, global supply, marketing and account efforts. A 23-year veteran of the company, Carlson previously served as president and chief operating officer, as well as other senior roles during his tenure.
The announcement comes as Eric Erwin retires from the role he's held since 2017. Erwin's leadership at FloraCraft was marked by significant growth along with major efforts to modernize and expand the 75-year-old manufacturer's abilities and products while investing in its team and enhancing its corporate culture. Erwin will continue to serve on FloraCraft's board of directors and plans to keep Ludington as his home base.
"The last seven years under Eric's leadership have been a tremendous period of innovation and expansion," FloraCraft Chairman Lee Schoenherr said. "Eric's impact on our company has been profound, and I thank him for the dedication and passion he shared with all of us during his time as our CEO. His transformational leadership has helped us grow into the modern, efficient and forward-thinking company we are today.
"Even more, he's helped get the right people in place, such as Steve, to continue building upon our success as a world-class business. Steve is incredibly well-respected by our team and has a deep knowledge of our company. I am confident he's the right choice for our new CEO and look forward to seeing how we grow under his leadership."
Highlights of Erwin's career at FloraCraft, include:
Bringing to market FōM with PolyRenew®, the world's first floral and craft foam made with post-consumer material. The product has won several national awards for sustainability, including the National Association of Manufacturers, The Edison Awards, the Manufacturing Leadership Council, Stevie Awards, Ernst & Young Entrepreneur of the Year and Beyond Plastics.
Leading the vertical integration of FloraCraft, allowing the company to manufacturer it's products from start to finish, allowing it to remain independent and better control quality.
Expanding the FloraCraft campus by 200,000-square-feet to better support its manufacturing process, improve its efficiencies and implement technologies to reduce its carbon footprint.
Enhancing team culture through training initiatives, like FloraCraft Academy, and a comprehensive compensation and benefits review.
Additionally, Erwin intentionally focused on succession planning and building internal leadership. Working with the board of directors and leadership team, Erwin spent several years 'talent mapping,' identifying individuals who can grow into new leadership positions, including Carlson.
"I feel incredibly lucky to have been a part of FloraCraft's amazing history and legacy that Lee
Schoenherr has built," Erwin said. "I've worked in the industry for more than 40 years, but this is the best team I have had the privilege to work alongside. We've accomplished many wins together, and I know those will continue under Steve's leadership.
"Steve has played a critical role of developing our manufacturing acumen over the past several years and knows our business inside and out. He has developed within FloraCraft and I am incredibly confident in his ability to push us forward for another exciting chapter in the company's history."
Carlson joined FloraCraft in 2000 when the company he owned with his father was acquired. Since then, he has held a variety of leadership positions and played a key role in modernizing the business, including:
Assisting in the redevelopment of the FloraCraft campus, allowing the company to become fully integrated in its manufacturing process.
Selecting and implementing its award-winning enterprise resource planning, or ERP, system.
Creating an automation strategy to reduce costs and increase productivity.
Building a world-class team of strong operators and problem solvers.
"I'm honored to become the president and CEO of FloraCraft, which has an incredible history on which to build," Carlson said. "Having been here for more than two decades, I know firsthand the deep skills and passion our team possesses along with the drive and determination to push our business to new levels. I'm looking forward to harnessing the strengths of our team and the power of innovation and technology to create additional growth opportunities."
As he begins his role as CEO, Carlson hopes to build on the success of the vertical integration to find additional ways to imagine unique and creative products, solve problems for the consumer and be a thought leader for retailers.
"We're poised to find even more ways to make it fun for our customers through innovation, manufacturing excellence and strong relationships with retailers," Carlson said. "I believe we have a clear path forward and am excited to partner with our incredible team on what I'm sure will be a wonderful next chapter. I appreciate everything Eric has done to pave the way forward."
Active in the Ludington community, Carlson has served as president of the Ludington Area Schools Board of Education for eight years. During his tenure on the school board, he was a champion for the construction and transformation of the district's facilities, including the new Ludington Elementary School and the remodeled Middle/High School complex. He is also former president of the Ludington & Scottville Area Chamber of Commerce. He and his wife, Andrea, have two daughters.