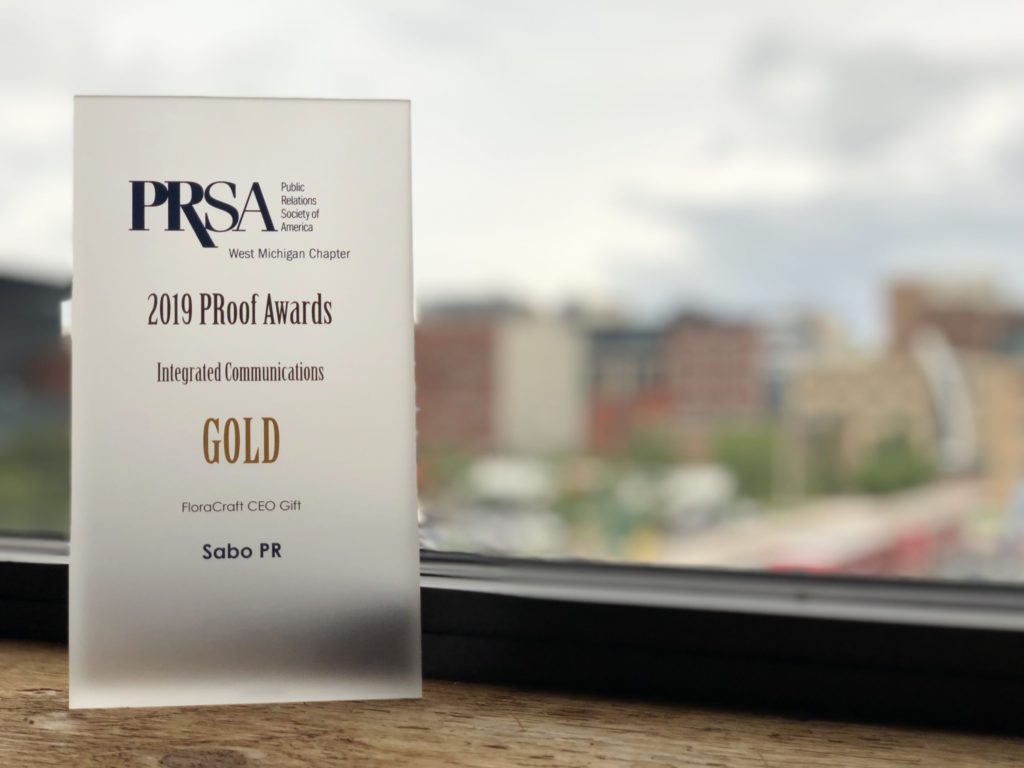 June 13, 2019
FloraCraft 'Gift Announcement' Receives Public Relations Award
For its execution of announcing a monumental gift to its employees, FloraCraft® and its communication partner Sabo PR won a gold award from the West Michigan Chapter of the Public Relations Society of America.
In December 2018, FloraCraft Chairman Lee Schoenherr surprised the manufacturer's 200 employees by announcing he would give nearly $4 million as a special thank you. The announcement made headlines around the world, appearing in national publications like USA Today, Washington Post, Newsweek, and on broadcast networks such as FOX News, CNBC and CNN.
In the end, more than 600 television, radio stories, print and online articles with an audience estimate of nearly 8.2 million people and an advertising equivalency of $4.6 million. The story was picked up in 20 countries and translated into 14 languages, including Spanish, Chinese, Danish, Czech, Greek, Romanian, Russian, Dutch, Vietnamese and Arabic.
Sabo PR submitted the work for this campaign to the Integrated Communications category of the West Michigan PRSA chapter's annual PRoof Awards, which recognizes best PR work of the year and highlights the highest standards of performance in the region. This award was one of seven total awards the agency received at the event.
"We were overwhelmed by the international media attention that Lee's generous gift received," said FloraCraft CEO Eric Erwin. "We appreciate being able to partner with the team at Sabo PR to share this great news in a way that underscores who we are as a company and the values that drive us every day. We are gratified by our continuing partnership with the Sabo PR team."
In October 2018, FloraCraft contracted the Grand Rapids-based communications agency to assist with the special announcement. Dubbed Project Green Buck to preserve confidentiality, the goal was to prepare for the announcement without anyone beyond Schoenherr, Erwin and a few other senior team members knowing in advance.
During the 10 weeks prior to this announcement, Sabo PR and FloraCraft partnered to develop messaging, internal and external communications, press release and social media posts. The agency also worked with Grand Rapids-based Mindutopia to develop a new website, with special attention to a news room. Sabo PR team members worked closely with photographer Johnny Quirin and videographer Dave MacKenzie to develop visual assets for both online and the media.
The team from Sabo PR was on hand for the announcement on a Friday in mid-December to capture employee responses through interviews, photography and videography. The team sent a release out the following Monday, coordinating 11 media interviews that appeared in major media in – and beyond – Michigan.
FloraCraft and Sabo PR tracked hundreds of Facebook placements, with the stories garnering millions of views and 75,572 shares. FloraCraft followers on Facebook increased 34 percent in the space of two weeks. The company also saw:
A significant spike in job applications
Accolades from Michigan politicians
Opportunities to expand or establish partnerships, including one from Eastern Europe
About FloraCraft
FloraCraft is the world's leading manufacturer of foam products for the craft and floral industries. From its headquarters in Ludington, Michigan FloraCraft and its 200+ employees provide innovative, American-made products to Walmart, Amazon, Michaels, JOANN, Hobby Lobby and other leading retailers. Founded after World War II, FloraCraft is a family-owned business success story built by owner and Chairman Lee Schoenherr, who is dedicated to protecting American jobs. For more information, visit www.floracraft.com.
About Sabo PR LLC                                                                                                
Founded in 2003, Sabo PR is a full-service communications firm that assists businesses, nonprofits, educators, associations and municipalities in telling their stories. From its headquarters in Grand Rapids, SPR provides media relations, social media management, crisis and litigation management, photography and videography, internal communications and marketing communications support to more than 50 Michigan-based clients. For more information, visit www.sabo-pr.com.