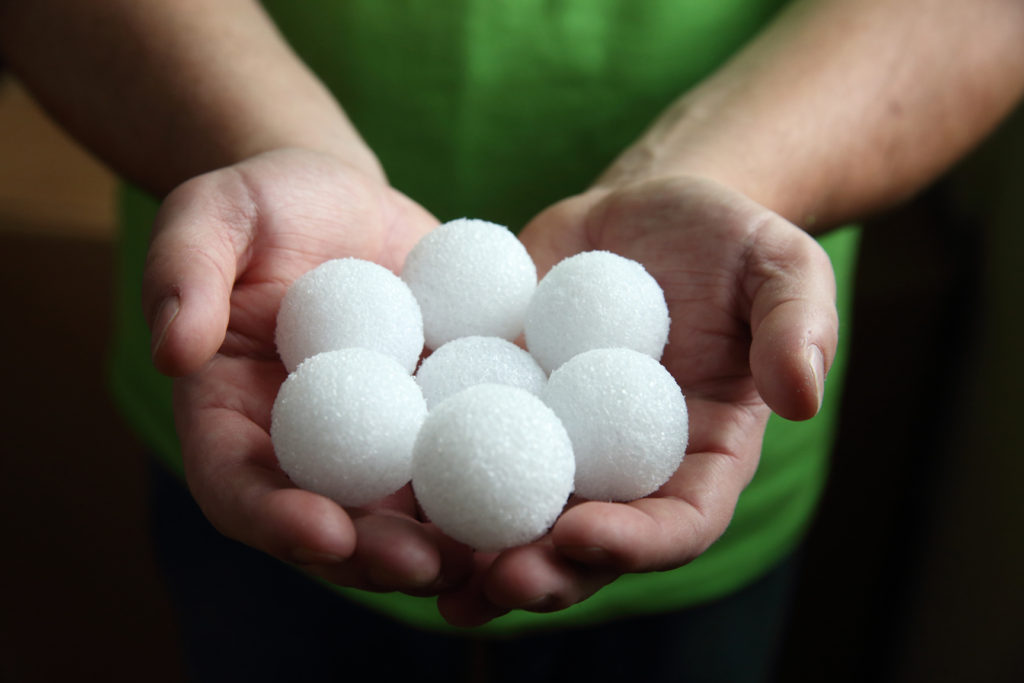 July 1, 2019
FloraCraft® Brings Production of Foam Products In-House
Move To Vertical Integration Also Reduces Company's Carbon Footprint
FloraCraft® announced today that it will produce its floral and craft foams in-house, ultimately protecting Michigan manufacturing jobs while reducing its carbon footprint.
After more than four decades of utilizing an outside supplier, the Ludington-based manufacturer has made a significant capital investment that will allow its team to produce its own extruded polystyrene, or XPS. FloraCraft employees then fabricate and market the blocks, balls, wreaths, cones and other foam products used around the world by crafters, florists, teachers, parents and other creative makers.
FloraCraft can now produce enough XPS to support its customers across the globe in Ludington– a move that eliminates 384,846 miles of truck traffic each year moving products from its former supplier to its Lakeshore headquarters.
"We are delighted to announce FloraCraft is now completely self-sufficient in the production, fabrication and marketing of our craft and floral foam products," said CEO Eric Erwin. "By bringing production in house, we will reduce our carbon footprint by lowering our transportation costs while maintaining greater control over quality."
FloraCraft added 42 new jobs in Ludington to design, engineer and now produce its own XPS.
FloraCraft began using foam products in the aftermath of World War II when company founder Lee Schoenherr realized they provided a stable base for drying and dying the branches of leaves, ferns and grasses used to create dried floral arrangements. Extruded polystyrene had been created accidentally during the war in the quest to produce synthetic rubber. Its buoyancy made it the perfect material to use in bulkheads to help keep transport ships afloat after being torpedoed.
Once the war ended, this need disappeared – and the United States was left with a surplus. Schoenherr bought a truckload of the material in Ludington and experimented. As FloraCraft transitioned its business model to focus on the burgeoning craft market, Schoenherr realized this was an ideal material to fabricate balls, cones, wreaths and other shapes.
"We spent more than a decade of research and investment in the process of extruding our own foam," Erwin said. "Our move to vertical integration was driven by our commitment to be a socially responsible company that employs best practices for the environment, our people and the communities where we live and work."
Erwin stressed that XPS is a world apart from expanded polystyrene, or EPS, which can be found in many single-use food packaging containers and beverage cups that litter landfills and create "mermaid tears," or the resin pellets that are a source of ocean pollution. FloraCraft's XPS, on the other hand, does not leach into the water supply nor does it create mermaid tears and is made entirely in the U.S. by company dedicated to social responsibility.
FloraCraft is committed to reducing its environmental impact by recycling and reusing more than 98 percent of its foam fabrication scrap.
About FloraCraft
FloraCraft is the world's leading manufacturer of foam products for the craft and floral industries. From its headquarters in Ludington, Michigan FloraCraft and its 200+ employees provide innovative, American-made products to Walmart, Amazon, Michaels, JOANN, Hobby Lobby and other leading retailers. Founded after World War II, FloraCraft is a family-owned business success story built by owner and Chairman Lee Schoenherr, who is dedicated to protecting American jobs. For more information, visit www.floracraft.com.