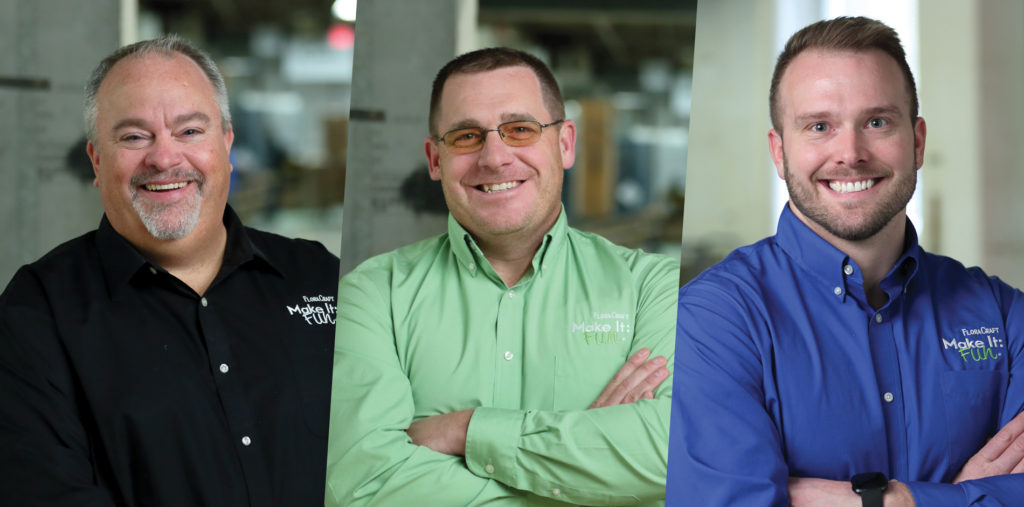 September 12, 2019
FloraCraft® Announces Leadership Team Promotions
FloraCraft®, the world's leading manufacturer of craft and floral foam products, announced leadership promotions to position the company for continued growth.
To meet the needs of the growing business, Steve Carlson, Mike Smith and Phil Gable are stepping into roles of increased responsibility and oversight. The promotions are effectively immediately.
"It's an exciting time at FloraCraft as we continue to innovate and expand our product offerings in a competitive marketplace," said CEO Eric Erwin. "Expanding the roles of Steve, Mike and Phil is an important step in executing our strategic plan.
"Each of them exemplifies our company values and each has been critical to our growth. I'm looking forward to the continued progress that comes from their new rolls."
Carlson was promoted to the newly created position of chief operating officer. In his new role, Carlson will be responsible for all operations and manufacturing, overseeing extrusion and fabrication, packaging, logistics, information technologies, human capital management and overseas supply chain operations.
With a solid understanding of FloraCraft's overall business strategy, customer requirements, emerging technologies and global challenges, Carlson has consistently delivered outstanding results and has created a 'best-in-class' team.
A graduate of the University of South Dakota, Carlson serves as president of the Ludington School Board and as chairman of the board for the Ludington and Scottville Area Chamber of Commerce.
Smith was promoted to vice president of fabrication/packaging. A lifelong native of Ludington, Smith has held a number of positions since joining the FloraCraft team 16 years ago, most recently as senior director of manufacturing. In his new position, Smith will lead the company's fabrication and distribution environment for all products.
Smith holds a bachelor's degree from Grand Valley State University.
Gable was promoted to vice president of extrusion. In his new role, Gable will lead the manufacturing environment for foam production and extrusion. Prior to joining FloraCraft, Gable held a number of positions in both the private and public industries.
A native of Ludington, Gable has degrees in mechanical engineering and biomedical engineering from Michigan Technological University and a master's degree from Texas A&M University.